— click link "EDR Vehicle List" in blue above for the listing of cars and trucks supported by the Bosch Crash Data Retrieval (CDR) software and hardware.

Below is a listing of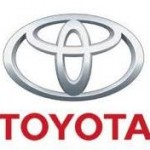 Toyota & Lexus Vehicles with Bosch tool retrievable EDR data.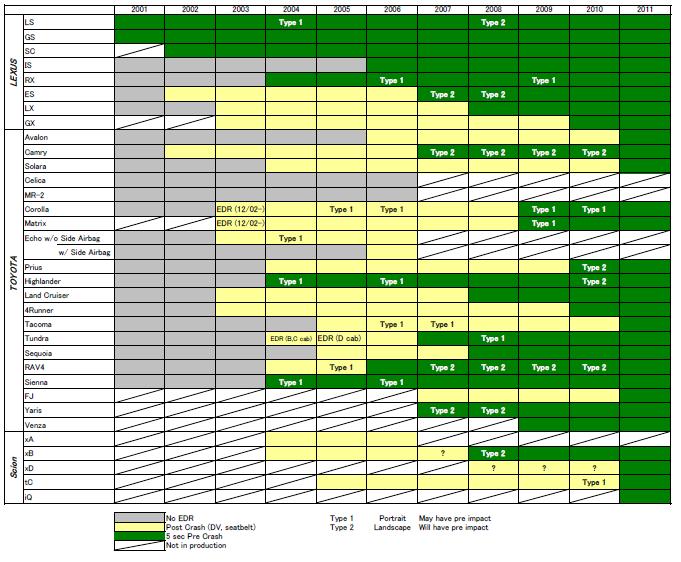 Selected EDR References
The following information is provided as a resource pertaining to EDR and other related topics.
The NHTSA EDR Ruling – 49 CFR Part 563:
This rule took over a decade to come together.  Here is the link to NHTSA  www.NHTSA.Gov
Summary: Light vehicles built after Sept. 2012 must comply with 49 CFR Part 563 , which states it if any one of the items in Table 1 is recorded then they all must be recorded and in accordance with the requirements in Table 1 and Table III. If the manufacturer records any data element in Table II then it must be recorded in accordance with the requirements in Table II and Table III. The recorder must survive in NHTSA's 30mph barrier crash.
Manufacturers must release the ability to read the data publicly within 90 days of the first public sale of the vehicle. The manufacturer may specify the readout procedure. The NHTSA rule does not specifically require a manufacturer to have an independent EDR box. The manufacturer can technically comply by having no EDR data of any kind or the EDR data can be distributed around in the vehicle.
NHTSA estimates that 65 to 90% of all manufacturers have some kind of an EDR in new vehicles already which would imply the vast majority of vehicles will have EDR's that must comply with the new rule for 2013 model year.
The rule is 207 pages long. The beginning part states NHTSA's rationale for the rule and discusses at great length the comments received to the 2004 Notice of Proposed Rulemaking. The actual rules do not start until Page 187 with vehicle requirements starting on page 196. The original rule published in 2006 had a Sept. 2010 effective date, it was modified in January 2008 to have a Sept. 2012 effective date in response to manufacturer petitions for reconsideration. Manufacturers have petitioned for additional delays but as of Oct. 2009.


Here is the link to the NHTSA Historical and Foundation Work associated with EDR.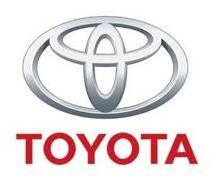 Here is link to Toyota Press Release regarding their position on EDR.