Automotive Body Terms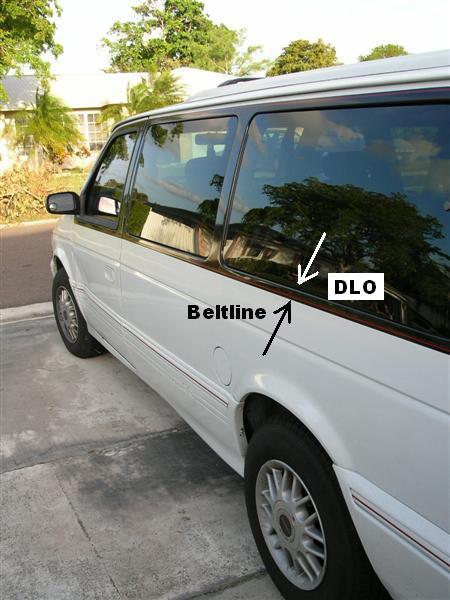 Every automotive professional has been challenged by their lack of knowledge regarding this particular terminology. Complications arise when the same parts and sub-assemblies are referred to with different names even if everyone speaks English. Furthermore, every automotive technical professional has been frustrated by their lack of knowledge of automotive terminology.
Not only does terminology vary world-wide for assemblies and sub-assemblies among countries but from manufacturer to manufacturer. A fact, which is also evident when analyzing GM, Ford, and Chrysler that respectfully reside in Warren, Dearborn and Auburn Hills, Michigan.
Backlight – glass in rear window opening
Belt Line – lower boundary of the side window daylight opening (DLO)
Black Box – a design, development, and build program that a supplier completes with almost no supervision by the car company (combined radio and sound system would be an example of this type of program).
Body-in-White – bare metal shell of the body including doors and deck lid prior to paint and trim
Boot – folding top storage area (convertible).
Center Pillar – box construction used on four door bodies forming the front door body lock pillar and rear door body hinge pillar. Also known as the "B" pillar.
C.K.D. – completely knocked down or disassembled.
Crease Line – discernible line in body exterior skin caused by abrupt change in surface.
D.L.O. – daylight opening, the maximum unobstructed opening through any glass aperture in given direction.
Dog Leg – portion of rear body lock pillar formed by wheel house projecting into door opening.
Door Check – a device or part of the door hinge assembly to prevent the door from opening beyond the designed full-open position.
Drip Molding – gutter along side of roof edge for controlled water run-off from roof panel.
Driveable Chassis Assembly– a driveable assembly of the chassis, dash and toe pan on which the body is subsequently built.
Driveable Space Frame – driveable chassis assembly (Fiero).
Elepo– electrophoretic priming operation – body and primer have opposite electric charges and primer "plates out" on body in immersion (paint process).
Escutcheon– ornamental and/or protective plate surrounding a keyway, handle, light assembly, etc. Historically, these parts were made of zinc die cast material but today injection molded plastic is common.
Fastback – body style where the transition from roof to rear deck and rear end is smooth and uninterrupted.
FESM – front end sheet metal
FMVSS – Federal Motor Vehicle Safety Standards – standards established by the Federal Government on vehicle performance and passenger safety.
Flow-thru Ventilation – type of ventilation where air enters at the front of the passenger compartment and exits at the rear.
Flush Glass – window opening design where the plane of glass is essentially the same as the plane of the body surface.
Front Body Hinge Pillar – a structural member on which the front door is hung. Also known as the "A" pillar.
Garnish Moldings – trim moldings on inside of body.
Gray Box – a body program component and/or sub-assembly that is built by an outside supplier, but much of the design input comes from the car company. A plastic front fender is a good example of this type of component.
Greenhouse – portion of body above the belt line.
Gum Drops– drops of plastisol adhesive used in fabricated roofs and in deck lids to space and bond the outer to the inner panel.
Gutter– "U" shaped setion around the deck lid opening used for water drainage and retention of the sealing strip.
Heel-Hard – point directly beneath the heel of the right foot of the manikin of the normal metal floor surface.
Hem Flange – type of weld flange where one panel is doubled back on itself to enclose the flange on the other panel. A parallel flange section is ideal for steel, while a "roped" hem is usually required for aluminum.
Hinge Limit Lines – limits within which styling may vary body surface without requiring new hinges or door hardware.
Inside of Metal – surface of metal which is formed by the male stamping die.
Kamm Back – body style similar to station wagon where only the rear window opens and there is no tailgate door.
Line Dies– operations which follow the draw operations consisting of various combinations of various secondary operations such asfinal form, piercing, trimming and flanging. This may also refer to the tooling for parts that do not require a draw die.
Load Floor – cargo bearing floor in wagon and folding second seat style bodies.
Match Check – checking for fit-up of detail parts by loosely assembling body-in-white components in a checking fixture.
Modular Assembly – method of body assembly where operations are confined to joining a few large modules rather than individual parts.
Monkey Motion – glass drop motion where direction abruptly changes one or more times to clear body structure.
O.D.D. – Outside Design and Development, a term used by Chrysler to describe a "Black Box" type of project by a supplier.
Off Line – area designated for sub-assembly operations not performed on the main assembly line body conveyor.
Oil Canning – loose or extra metal in a large panel.
Peak Line – approximate horizontal body surface line caused by a crest or outward break.
Pinch Weld – resistance spot-welding on flanges that provide access for welding with electrode tips engaging each panel flange.
Pinch Weld D.L.O. – window opening in the body formed by the raw edges of a pinch weld.
Plenum Chamber – ventilating duct in body front end through which air flows from the outside to the inside of the body.
Rabbet – offset designed into surrounding body structure to accomodate and assemble glass.
Rear Seat Riser– rise in the floor pan that supports the fron edge of the rear seat.
Recoil– raising of a surface adjacent to a flange as a result of the resistance of the materials to the flanging surface.
Robogate – a single tool body forming system employing automatic locating and clamping with robots performing welding operations to create dimensional control of the total body.
Rocker Panel – panel extending beneath the door openings that constitutes a structural part of the body side surface.
Sail– portion of the rear quarter panel that extends above the belt line and forms part of the boundary of the backlight and the side window or door opening.
Scoring– surface scratches on paels caused by cold welding betwen a flange die steel and sheet metal part. Also known as galling.
Shock Tower – structural pedestal constructed to support shock absorber loads and provide for required plunger travel.
Side Door Beam – beam inside of doors extending from hinge pillar to lock pillar to increase side impact protection.
Sill Plate – finishing panel on top of rockers in door areas.
Skid Line – a visible surface defect caused by movement of the blank over a sharp feature line during the drawing operation.
Sled Runners– the two front lower body rails that start most unibody builds. Also, the front sub frame with engine and transaxle is usually mounted to these body members.
Slug Marked or Slugged– a visible surface defect in a stamping (usually from an out ding) caused by the imbedding of foreign particles in the punch surface of a draw die.
Spider Assembly – that portion of the floor pan consisting of rocker inner panels, crossbars and reinforcements without the floor pan.
Spring Back – angular measure of a metal returning to its former position after being bent to a specified amount.
Steel Frame – type of chassis frame in semi-integral frame cars that extend from the front end to the front seat area.
Stud Welder – type of weld gun to weld automatically, studs to outer panel to retain moldings and glass.
Toe Pan– first break in the underbody between normal floor surface and front-of-dash. Usually, it is roughly parallel to bottom of occupants foot.
Toggle Press– a mechanical press of 2 or 3 slides actuated by toggle joints on the outer and crank shafts on inner slide or platten used for toggle drawing,is often referred to as a toggle press.
Torque Box – reinforced area of the frame which transmits torque load.
Transfer Die – a multi-operational die in which the panel progresses from stage to stage by means of a transfer device.
Tulip Panel – exterior body panels located between the back light opening and the deck lid opening.
Tumbelhome– slope of the body surface above the widest part of the body that falls up and inward toward the body centerline.
Underbody– assembly of the floorpan and rear compartment pan assemblies forming the lower closure for the body.
Valence Panel – generally refers to a panel located beneath front or rear bumpers.
Weld Study – a study in layout form depicting welding for all areas of the body assembly.
Wheelhouse – enclosure for the wheels.
Whiskers– flashout or expulsion at spotweld location of heated metal.