Occupational Safety and Health Act of 1970 (OSHA Act)
To assure safe and healthful working conditions for working men and women; by authorizing enforcement of the standards developed under the Act; by assisting and encouraging the States in their efforts to assure safe and healthful working conditions; by providing for research, information, education, and training in the field of occupational safety and health; and for other purposes
OSHA's Mission
With the Occupational Safety and Health Act of 1970, Congress created the Occupational Safety and Health Administration (OSHA) to assure safe and healthful working conditions for working men and women by setting and enforcing standards and by providing training, outreach, education and assistance.

Organization
OSHA is part of the United States Department of Labor. The administrator for OSHA is the Assistant Secretary of Labor for Occupational Safety and Health. OSHA's administrator answers to the Secretary of Labor, who is a member of the cabinet of the President of the United States.
Purpose and Scope
The Williams-Steiger Occupational Safety and Health Act of 1970 (84 Stat. 1590 et seq., 29 U.S.C. 651 et seq.) requires, in part, that every employer covered under the Act furnish to his employees employment and a place of employment which are free from recognized hazards that are causing or are likely to cause death or serious physical harm to his employees. The Act also requires that employers comply with occupational safety and health standards promulgated under the Act, and that employees comply with standards, rules, regulations and orders issued under the Act which are applicable to their own actions and conduct. The Act authorizes the Department of Labor to conduct inspections, and to issue citations and proposed penalties for alleged violations. The Act, under section 20(b), also authorizes the Secretary of Health, Education, and Welfare to conduct inspections and to question employers and employees in connection with research and other related activities. The Act contains provisions for adjudication of violations, periods prescribed for the abatement of violations, and proposed penalties by the Occupational Safety and Health Review Commission, if contested by an employer or by an employee or authorized representative of employees, and for judicial review. The purpose of this Part 1903 is to prescribe rules and to set forth general policies for enforcement of the inspection, citation, and proposed penalty provisions of the Act. In situations where this Part 1903 sets forth general enforcement policies rather than substantive or procedural rules, such policies may be modified in specific circumstances where the Secretary or his designee determines that an alternative course of action would better serve the objectives of the Act.
Dr. McElroy's Dissertation Dealt With OSHA and the OSHAct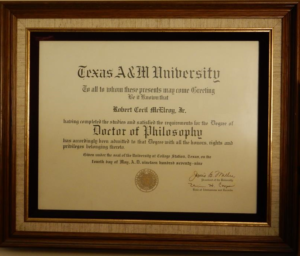 Dr. McElroy's dissertation dealt with selected aspects of the OSHA Act with implications for workers and industrial worker training programs.